Welcome to probably the largest collection of chocolate bar wrappers from the UK currently available on the web....
Last time I checked (09/00) the site had had over 10,000 visitors. Wow! I never ever thought anybody would look at it. Never mind thousands. You're all crazy ! Bu I luv ya !
This used to be my homepage with alsorts of stuff on it. Then I noticed that 99.9% of the visitors came to see the chocolate wrappers, so errmm that's all there is now. For anybody that doesn't know what a Tuck Shop is ; it is a place one would go to acquire things of a sweet nature.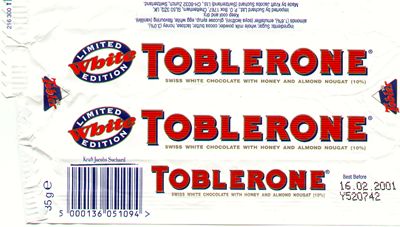 Latest total :
313
Chocky - 260
Snacks - 22
Sweets - 31
Latest Addition:
White Toblerone
Manufacturer:
Nestle
Cost:
35p (ish)
Comment:
Limited Edition
From:
Me